Home Page | Bracelet Home Page | Order Form | How To Use Bracelets | Who Should Use Bracelets | Features and Testimonials | History | Links and Resources | Statistics | Donations | Contact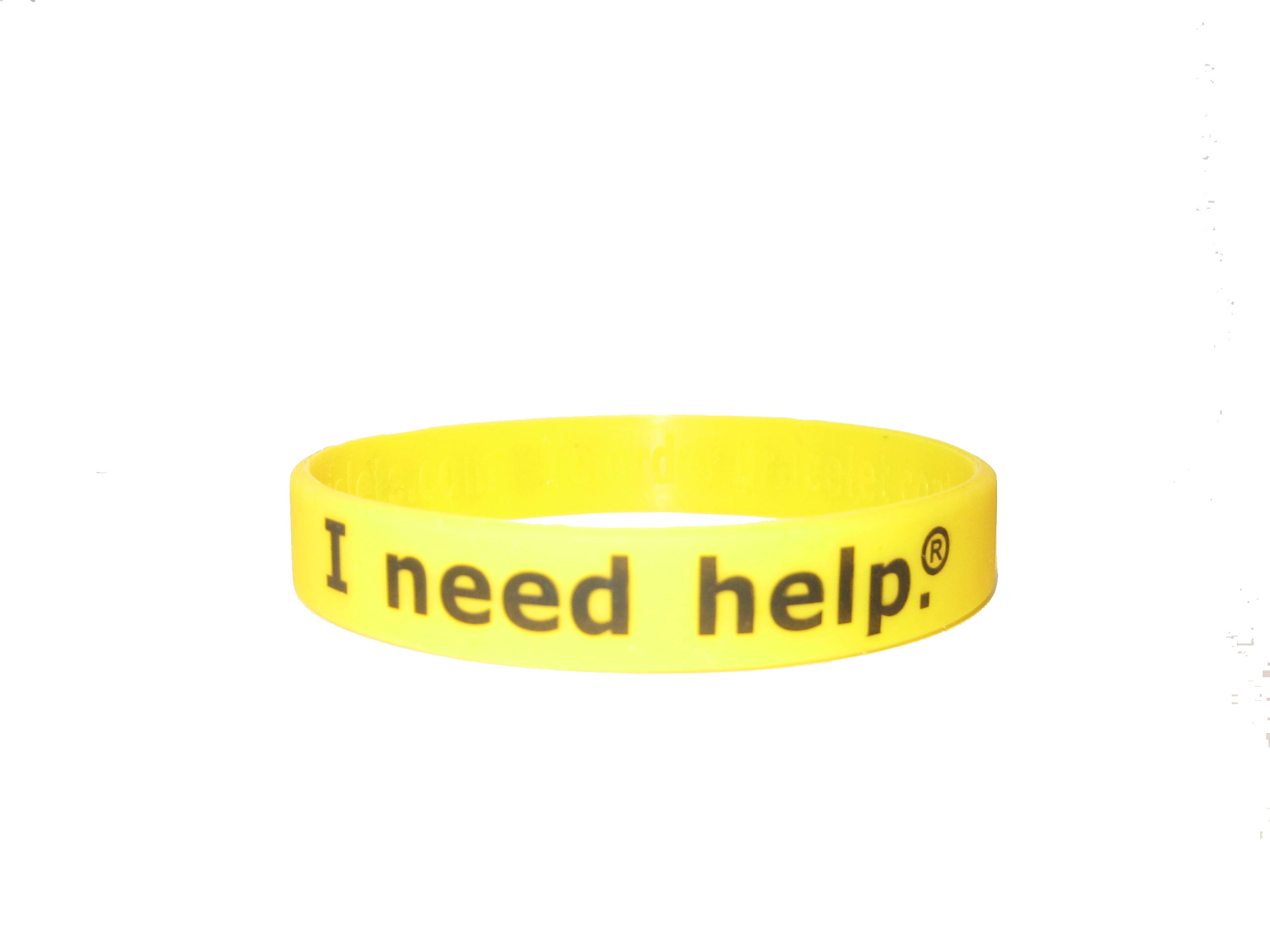 I need help.® Communication Bracelets
Bracelets are visual aids that communicate I need help.® on one side and on the reverse side they have universal icons or words to express their needs, diet restrictions, or medical conditions. Because the bracelets are worn and accessible they become an efficient, easy and understandable way to communicate. They come in youth and adult sizes. Bracelets are lead, latex free and are made of silicone. All bracelets have embossing on the inside to provide sensory needs, they may be rubbed, twisted, bitten and make a great fidget. They are very popular in health industries, learning environments and with families worldwide!
BRACELET DISCOUNTS ARE ALWAYS GIVEN FOR LARGE ORDERS. Email: Ineedhelpcommbracelets@gmail.com or call/text 952-270-3249 FOR A PRICE QUOTE.
Bracelet Photos (Some bracelets are double stacked to show all icon photos)

Bracelet Name

Part Number

Size/Price/Order

10

11

Youth $3.00

20


21

23

Youth $3.00

Adult $3.00

Adult size only - 15 cmm $4.00

30




31

Youth $3.00

Camp Bracelet

40




41

Youth 3.00

Adult $3.00


Numbers 1 - 10

60




61

Youth $3.00

Adult $3.00

Diet Speech - Language - Enhancing Bracelets:

50




51

Youth $3.00

Adult $3.00


Who What Where When Why How

Wh Bracelet

52

53

Youth $3.00

Adult $3.00

Diet Diet Restriction Bracelets:

80


81

Youth $3.00

Adult $3.00

82


83

Youth $3.00

Adult $3.00

Medical Alert Bracelets:

70

71

Youth $3.00

I am Autistic

72

73

Youth $3.00

90


91

Youth $3.00

Adult $3.00

92


93

Youth $3.00

Adult $3.00
For bank or credit card orders just click on add to cart button located by each bracelet. (You do not have to have a PayPal account to use PayPal, they accepts all credit cards and there are no charges or fees to the buyer.) All International orders are welcome!
To review your order, click on view cart button below:
To pay with a check use:
Order Form | Catalog Page
Fast Delivery: All orders are shipped the very next day!
FUNDRAISING IDEAS & TIPS
Fundraising Idea: Wrap a rolled up t-shirt with an I need help.® communication bracelet around it. The bracelet keeps the t-shirt rolled as a package and serves as a great communication prize.